Advertisements
Big Game Hunt Draw Information
Apply for the Big Game Draw online
View draw results, check your bonus points, update your credit card information and apply for hunts issued though the draw system when available. Hunters may apply using the online service (when available) or with a paper application.

The department encourages all applicants to sign up for a free AZGFD portal account and apply online. The secure account allows customers to manage and view their draw applications, license history, bonus points, gain access to their "I Support Wildlife" membership and more in the "My AZGFD Dashboard" section. A portal account also provides convenient access to the online license purchase and draw application systems.
2019 Pronghorn Antelope and Elk Draw Information
2019 pronghorn, elk hunt draw results now available
Hunters can check portal account, or by phone
The results are now available for those who have a free AZGFD portal account, or by calling the department at (602) 942-3000, pressing "2" and following the prompts. Be prepared to provide a Social Security or Department ID number, and date of birth. This service is free of charge.
By the numbers:
26,168: The total number of hunt permit-tags issued.
186,683: The total number of those who applied for hunts or bonus points (99 percent of all applicants applied online).
144,455: The total number of applications submitted (paper and online).
All hunt permit-tags for successful applicants, along with refund warrants for those who were unsuccessful in the random draw, are expected to be mailed by April 5.
2019 Spring Turkey, Javelina, Bison and Bear Hunt Draw Information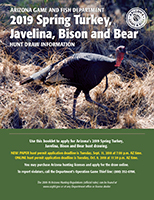 2019 spring hunt draw results now available
The wait is over for hopeful hunters who applied for a 2019 spring hunt permit-tag.
To view the draw results for the spring turkey, javelina, bison and bear hunting seasons, online applicants should log in to their Arizona Game and Fish Department portal account. Don't have a free account? Simply click on the "My Account" button in the upper right-hand corner of the www.azgfd.gov home page, then select the "Register" option and fill in the required fields.
Draw results also can be accessed by calling the department's automated telephone system at (602) 942-3000 and pressing "2." All hunt permit-tags will be mailed by Nov. 30. Refunds will be mailed by Nov. 16.
A total of 43,318 applicants – of which 42,784 applied online (98.8 percent) — vied for 34,030 total hunt permit-tags issued through the random draw. For those who were unsuccessful, a list of more than 8,200 leftover hunt permit-tags is expected to be posted online next week at https://www.azgfd.com/Hunting/Draw/.
The department will begin accepting applications for leftover hunt permit-tags Monday, Nov. 19 – by mail only – at 5000 W. Carefree Highway, Phoenix, AZ 85086, Attn.: Draw/First Come. Leftover hunt permit-tags will be available for purchase on a "first come, first served" basis beginning Monday, Nov. 26, at all department offices.
For those who qualify, military hunts may be available at Camp Navajo. Visit https://dema.az.gov/army-national-guard/camp-navajo/garrison-operations/camp-navajo-hunting-information.
2018-19 Arizona Hunting Regulations
The online application period for these hunts closed June 12, 2018.

The Arizona Game and Fish Department is excited to announce an innovative new program in "PointGuard," which essentially will provide hunters with peace of mind in knowing that they can surrender their hunt permit-tag for any reason without losing their coveted bonus points.
New to hunting? Take a hunter education course

–View draw results in the portal
If you have an account, simply login, if not, it's easy to create one.

Over the Counter Non-Permit Tags

Draw Cycles and Hunt Permit Application Deadline Days
The Arizona Game and Fish Department conducts three separate application and draw cycles for big game hunt permit-tags. Beginning in 2007, the Department for the first time held a separate draw for antelope and elk. This change was made to let hunters know earlier if they have been drawn for these two popular big game animals.
Species: Draw Deadlines
Pronghorn antelope, elk
Second Tuesday in February (pending Commission approval)
Deer, fall turkey, fall javelina, bighorn sheep fall bison, pheasant
Second Tuesday in June (pending Commission approval)
Spring javelina, spring bear, spring turkey, spring bison
Second Tuesday in October (pending Commission approval)
View Draw Results, Accumulated Bonus Points
Use the link below to view the last draw results. To access the number of bonus points you have accumulated for deer, antelope, elk, turkey, javelina, bighorn sheep, bison and bear, call 602 942-3000, option 2. You will need to provide your date of birth and department identification number, (for most people, this is their social security number).
Learn More About Big Game Draw Process and Bonus Points
Hunt Arizona Edition
Survey, Harvest and Hunt Data for Big and Small Game
Special Big Game Permit-Tag Program
Each year, in June, the Arizona Game and Fish Commission awards Special Big Game License Tags, sometimes called Commissioners' tags, to selected 501(c)(3) wildlife conservation organizations who are charged to market and sell those tags to raise funds for Arizona's wildlife.
Up to three tags for each of the following 10 Arizona big game species are typically allocated: pronghorn antelope, bighorn sheep, black bear, bison, elk, javelina, mountain lion, mule deer, Coues white-tailed deer and turkey.
All of the revenues raised are then returned to the Arizona Game and Fish Department to be directly used to benefit those species through wildlife and habitat management in coordination with the Arizona Habitat Partnership Committee.
Tags are typically made available to the public through auctions or raffles, including the Big Game Super Raffle.
The uniqueness of these special tags is that the hunting season is year-round allowing winning tag holders the time to pursue an animal, many of which can only be found in the Southwest and some only in Arizona – particularly, the Gould's wild turkey, desert and Rocky Mountain bighorn sheep, white-tailed deer, and the world-famous Kaibab mule deer.
Arizona Big Game Super Raffle
The Arizona Game and Fish Department frequently receives questions from constituents asking, "What is the Arizona Big Game Super Raffle?"
The Arizona Big Game Super Raffle is a nonprofit 501(c)(3) entity that conducts a special raffle each year to raise money for wildlife conservation efforts. Each year the Arizona Game and Fish Commission sets aside one tag for each of 10 big game species—bighorn sheep, elk, mule deer, white-tailed deer, antelope, bison, turkey, bear, javelina and mountain lion—for the purpose of being offered through the Super Raffle.
People buy tickets for a chance to win one or more of the tags. Ticket prices range from $5 to $25 each, depending on species. Winners will be able to hunt for 365 days almost anywhere in the state of Arizona. Every dollar raised for each species by the raffle is returned to the Arizona Game and Fish Department and managed by the Arizona Habitat Partnership Committee (AHPC) for that particular species, with input from local habitat partners across the state.
For more information about the Arizona Big Game Super Raffle, visit www.arizonabiggamesuperraffle.com